HENDERSON MUNICIPAL SAND & SALT SPREADERS
Henderson Products is a leading manufacturer of premium sand & salt spreaders. Henderson spreaders (v-box sanders) offer various sizes and capacities designed to work with pickup trucks all the way up to heavy-duty tandem axle trucks. We start with the basics and begin adding custom options to fit your specific requirements. Available in either carbon steel (painted) or stainless steel.
Eastern Iowa snow plow operators train and prepare for the upcoming winter season. Click on the image to view the news video.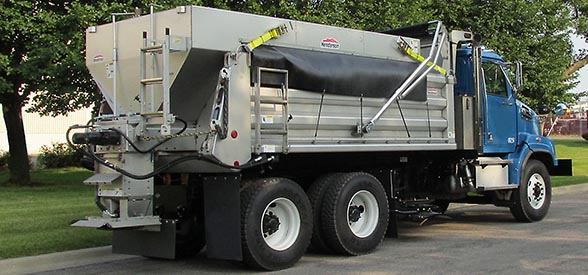 HEAVY-DUTY SAND & SALT SPREADER
Designed for use with Heavy Duty chassis, the FSH Sand & Salt Spreader was built to master the elements. Available in three models and several capacities, this unit is ideal for municipalities and their demanding budgets. Fast setup. Easily slips in and out of existing dump bodies.
Options include: single auger, dual auger, electric controls, top grate screens, safety interlock, inverted vee, 201 or 304 stainless steel, front idler/grease tube extensions, Direct Cast precision spinner, pre-wet system, spreader stand, ladders and more.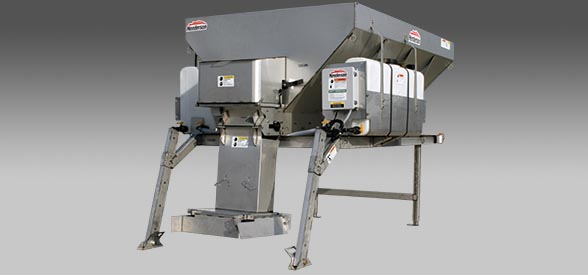 HENDERSON SPREADER STANDS
The HSS (Henderson Spreader Stand) makes the loading and unloading process of v-box sand & salt spreaders, combination units, and liquid systems from dump bodies easy and efficient, while providing a safe storage location that can change each time the truck returns.
Using only the hoist of your dump body the spreaders can be loaded and unloaded, eliminating the use of forklifts and overhead hoist systems. By simplifying this previously dreaded task you can free up dedicated spreader trucks for other uses on fair weather days.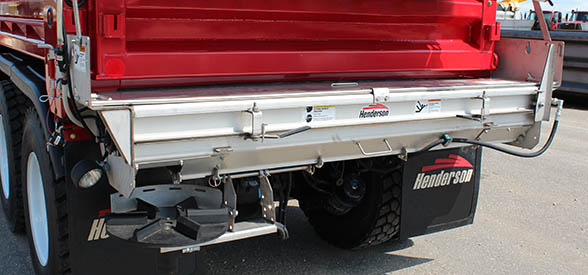 TAILGATE SPREADER
The Henderson TGS (Tailgate Spreader) is designed to fit most standard and utility dump bodies and attaches in minutes without the use of special tools. There's plenty of flexibility to meet the conditions with individual hydraulic spinner and auger motors controlled from the cab. The TGS is available with 6" or 9" augers in both carbon steel or stainless steel. Doesn't interfere with normal hauling or dumping operations so it can stay mounted all season long, ready for instant duty. Instantly turns your dump body into a low-cost ice control unit.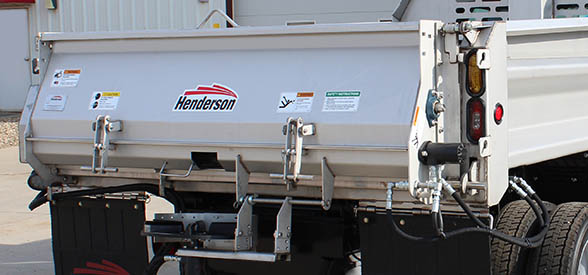 REPLACEMENT TAILGATE SPREADER
The Henderson RTS (Replacement Tailgate Spreader) is the new standard. The RTS is designed to fit Henderson's MARK E, MARK III or MARK IV dump bodies and most other one-ton dump bodies. Henderson used many of the TGS spreader features in the RTS design, providing the best value spreader in the industry.
The RTS installs and removes easily. A tough spreader at a gentle price.
For more information about Henderson Sand & Salt Spreaders, call Henderson Products at 800-359-4970.
Copyright © 2018 Henderson Products, Inc., a division of Douglas Dynamics, Inc. All Rights Reserved.